Seacret Facial Mud Mask Review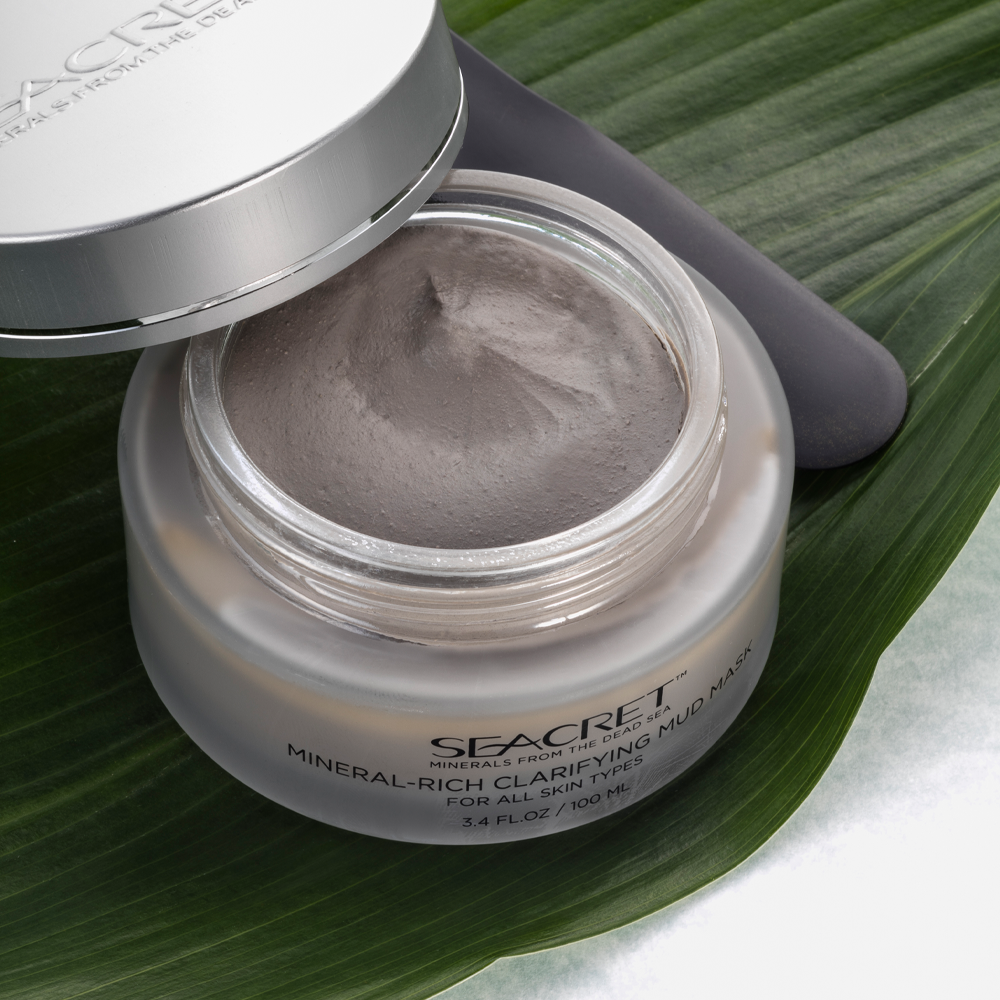 Seacret Facial Mud Mask Review
Facial masks are an excellent way to remove impurities and achieve vibrant, glowing skin.
The Seacret mud mask is a natural product incorporating herbal components and minerals from the dead that help absorb excess sebum and purify your skin. The highly enriching formula gives your skin the smooth and soft texture it lacks.
This Seacret mud mask review will explore how the product restores your skin by drawing out toxins and giving it a glowing and fresh appearance.
Benefits of Using Seacret Facial Mud Mask
The Seacret mud mask imparts multiple skin benefits, including:
*Cleanses the skin and removes all impurities (including dead cells)
*Absorbs excess oil and sebum in oily skin individuals
*A high quantity of natural minerals helps relieve skin dryness and irritation
*Restores skin moisture and leaves a soft, matte finish
*A completely natural product (free of SLS, paraben, etc.) and thus is hypoallergenic

How Seacret Mud Mask Ingredients Benefit Your Skin?
This Seacret mud mask review will now provide a detailed explanation of the ingredients that make up the mineral-rich mask, helping deep clean and rejuvenate your skin. They are as follows:
Dead Sea Mud (Maris Limus)
A major component of the facial mask is the dead sea mud. It contains numerous natural minerals that improve dry and irritated skin. Dead sea mud is a frequent ingredient of facial masks for its excellent skin benefits.
Products rich in dead sea mud have superb nourishing and skin conditioning properties.
A study revealed that dead sea mud could treat skin disorders/ diseases. Therefore, manufacturers use it to prepare skincare products such as lotions and facial masks.
Allantoin
Allantoin is a chemical compound present in plants, animals, and humans. It is added to skin care products to heal irritated skin. You can find allantoin in some modern skin creams, lotions, and scar creams.
When applied topically on the skin, it has multiple benefits. Research shows allantoin moisturizes the skin and is therefore added as a moisturizer in creams and face masks.
The skin hydration effect of allantoin from the comfrey root extract allows it to be used on dry, irritated, rough and itchy skin. Dry skin becomes flaky and cranky; thus, moisturizing also soothes the skin.
Chamomile Extract
Chamomile imparts multiple therapeutic benefits to your skin with its powerful antioxidants. It has potent anti-inflammatory antibacterial properties that can help reduce conditions like eczema and dermatitis while relieving irritation and moisturizing the skin.
The ɑ-bisabolol in chamomile has shown promising results in alleviating skin inflammation. Bisabolol in the face mask also has appreciable anti-cancer and antimicrobial properties.
Chamomile is also effective in treating acne. As it accelerates cell generation, the herbal extract fights off signs of premature aging, like facial wrinkles and lines.
Aloe Vera
Aloe vera is the ideal ingredient to be added to a facial mask. This natural extract inside the Seacret facial mud mask helps eliminate dead skin cells while adding moisture. Extracts of aloe vera enhance your skin's capability to retain moisture, strengthen the skin barriers and promote wound healing.
The widely popular herb is a great addition to peel-off masks because it carries out brilliant exfoliation while keeping the skin hydrated. By removing the impurities, your skin feels and looks cleaner.
According to studies, aloe vera gel has strong emollient properties. Thus, the herb is perfect for dry skin. Aloe vera is also used to manage skin redness and inflammatory skin conditions.
The topical application of aloe vera helps retain skin moisture and promotes wound healing.
As per a review, it can minimize radiation-induced damage in cancer patients.
Accordingly, the Seacret facial mud mask speeds up the growth of healthy new skin cells after the exfoliation of impurities/ dead cells.
Sunflower Seed Oil
Adding sunflower seed oil to the formulation makes it an even more potent product for nourishing facial skin. Exfoliation induced by mud masks leaves your skin dehydrated. Natural oils can help improve moisturization.
Oil extracted from sunflower seeds has many potential skin benefits. According to a study, sunflower seed oil strengthens the skin barrier and boosts hydration.
It is rich in vitamin E, which contains antioxidants, combating premature aging signs like wrinkles while protecting the skin from UV damage.
Vitamin A
The ideal mud mask removes impurities and prompts the skin to produce new layers. Seacret mud mask convocation contains ample vitamin A to boost cell regrowth.
Evidence suggests vitamin A boosts new protein collagen reproduction in the dermal layers. That means you get new, younger-looking skin resistant to external pollutants and UV rays. You can also notice a reduction in wrinkles and fine lines, improving the appearance of aging skin.
Vitamin A potentially benefits people with inflammatory skin conditions such as acne and psoriasis. By making your skin barrier robust, vitamin A proves to be a prodigious wall against microbial pathogens.
How To Use the Seacret Facial Mud Mask?
The Seacret mud mask application involves three simple steps:
Apply a thick layer of mud to the face/ neck away from the eyes.
Let the mud mask on for a few minutes.
Rinse the face with warm water.
Pros
*Heals irritated and erythematous skin
*Removes excessive sebum and oils from the skin
*Keeps the skin hydrated and moisturized
*Complete natural product
*Adds a pleasant scent to the skin
Cons
*Some find it a little expensive.
Final Remarks
As demonstrated in this Seacret mud mask review, the facial mud mask is a balancing face mask that effectively eliminates impurities and revives your dull skin.
The mud mask comprises unique dead sea minerals and various natural compounds. Comfrey root extracts are rich sources of allantoin that moisturize the skin.
Herbal extracts such as chamomile and aloe vera are added to augment skin hydration and moisturization.
Unlike most other mud masks, this facial mask from Seacret has powerful emollient and hydrating properties. You will also find sunflower seed oil and vitamin A to enhance new collagen production.
The Seacret mud mask plays an active role in removing excess sebum and oil from the skin, giving it a luminous and healthy-looking appearance.